SATKHIRA DISTRICT, BANGLADESH, 2010
A girl walks in torrential rain along the dikes that were destroyed the previous year by Cyclone Aila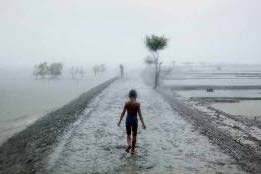 © Jonas Bendiksen / Magnum Photos
Sometimes, the roads that we travel, even those we know well, can change or even disappear in a trice. This is no Apocalyptic scenario; it is simply the cycle of seasons, that sometimes brings with it extreme weather. The girl in the picture had probably travelled that track hundreds of times during her first years of life, but after Cyclone Aila devastated India and Bangladesh in 2009, that path may have changed or even disappeared entirely.
Every year, tropical storms of incomparable magnitude form and then disappear as quickly as they appear, leaving a vast trail of devastation behind them. What's most worrying is the speed at which they form; they can grow so quickly and to such an intensity within mere days that inhabitants don't have time to find shelter or prepare for the catastrophe. Cyclone Aila took a mere four days to form and dissipate, climaxing on the third day with winds reaching 120 km/h.
The inhabitants of these places have become accustomed to being uprooted, since storms of this calibre displace hundreds of thousands of people. Or, their roots may be so strong that they can survive even submerged in water, just like rice does. Rice is the main food source of these people and is cultivated in bodies of water whose surface reflects the sky. It grows thanks to the climatic characteristics of these areas, in a trade-off between extreme climate and crop yield that is apparently difficult to balance. Living in these poor areas is already difficult today, but will be dramatic in the future, as monsoons become increasingly unpredictable and devastating.
Tamara Vitacchio