SATKHIRA DISTRICT, BANGLADESH, 2010
Children play football in a village that was destroyed by Cyclone Aila in 2009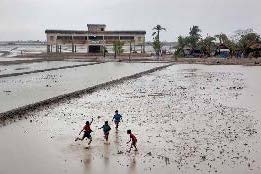 © Jonas Bendiksen / Magnum Photos
The large building on the left side of the photo is a cyclone shelter in one of Bangladesh's coastal regions on the Indian Ocean. Elevated, built of reinforced concrete, and with an architectural structure designed to withstand the impact of the wind, up to 2,000 people shelter here during cyclones. This is one of the protection systems the government has invested in to protect the nation's growth and prosperity. According to the 2012 World Disaster Report, Bangladesh ranks fifth among the top 15 countries at greatest risk for highest natural disasters.
The country's geographical location exposes it to repeated natural threats. One of the greatest challenges for a land that experiences flooding in monsoon months and droughts in the spring is protecting crops. The solution they have found is to change the types of crop they cultivate, adapting their farming practices and building polders, artificially drained stretches of the sea that contain excess water during tidal floods and cyclones to protect the coast.
Over the past decade, climate change has become a new challenge for agriculture, with high temperatures and heavy rains, combined with rising sea levels, increasing tropical cyclones, sudden flooding and poor socioeconomic conditions, and causing land loss and widespread migration.  Cyclone Aila struck in 2009 with 120 km/h winds, deteriorating the living conditions of the local population, as very salty water damaged plant life, rendered the land unsuitable for agriculture and damaged homes. National newspapers reported the displacement of at least 125,000 people, calling them as CIDP (Climate-Induced Displaced People).
Valentina Stefani