CASERTA, ITALY, 2012
Illegal dumping of industrial waste at the Ferrandelle and Maruzzella landfills has seriously polluted the water table and over 3,000 hectares of surrounding land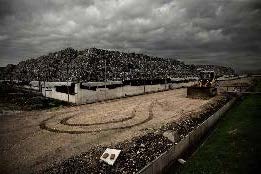 © Diego Barsuglia / Redux
The territory between Caserta and Naples has been subjected to devastating ecological abuse by organised crime. In 1989, the Legambiente environmentalist group denounced the flourishing criminal economy behind the disposal of waste by Mafia-type organisations. The work of activists and the Carabinieri military police force subsequently brought to light a whole economic and criminal empire, with close links to the world of politics.
The "ecomafias" saw illegal dumping as a goldmine, as Nunzio Perrella, a member of the homonymous Camorra clan, admitted. It soon became clear that the problem of waste dumping concerned not only the Campania region but the whole of Italy.
As the number of illegal sites grew, so did the number of businesses contacting criminal organisations to dispose of urban, industrial, special and other wastes. By 2005, there were over 2,500 contaminated sites in Campania alone. It was also common practice among the gangs involved to try disposing of materials by burning. This led to the release of dioxin with disastrous effects on human health and on crop and livestock farming in the area.
Over the years, administrations of different political colours came and went, in the regional council and at government level, but responses to the problem were always ineffective, often complicit and occasionally even criminal. But responsibility cannot be attributed to a single individual: any culture of large-scale consumption that fails to properly organise the disposal of waste will give rise to economies that are damaging to health and society as a whole. Only the active involvement of communities in decision-making processes, combined with different attitudes to consumption and business, will remove the profit and therefore the lifeblood from these activities. The only thing we can be sure of, as Peppino Impastato wrote, is that the Mafia is "a pile of shit".
Marco Casarotto