HEBEI PROVINCE, CHINA, 2017
Farmers spray pesticide over a field of maize to protect it against fall armyworm (Spodoptera frugiperda)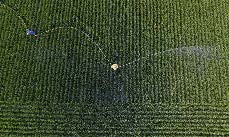 © Xinhua News Agency / Eyevine
For almost half a century, biocidal chemicals have been used and abused to eliminate harmful insect species, maximise the productivity of crops, and prevent the spread of disease by carriers. Pesticides, however, present a serious risk to human health and to the entire ecosystem. By entering the soil and the water supply, they gradually build up in the food chain and eventually reach man. Professional and residential exposure also places us at risk. Effects on human health include cancer and damage to the neuropsychiatric, endocrine, reproductive and immune systems. In the most acute cases, pesticides can cause death. Every year, one suicide attempt in five is linked to the ingestion of phytosanitary products.
So why not ban them? A vast number of chemical compounds, mixtures and additives are sold, but little has been done to monitor their diffusion in the environment or our level of exposure to them. It is also difficult to establish exact causal links between exposure and disease, given the length of time over which symptoms manifest themselves. Despite this, many pesticides are incriminated by incontestable data, not just the persistent organic pollutants banned by the Stockholm Convention (2001) for the damage they cause to human and ecological health.
Politicians, however, consistently fail to translate the findings of agrichemical research into forward-looking action. Even in the absence of irrefutable evidence of serious or irreversible damage to health, we should still be guided by caution. This, however, does not always happen. The withdrawal of pesticides from the market must be linked to alternative solutions (new compounds, GMO, biotechnology).
Private citizens and the scientific community need to remain vigilant that decisions on health and food sustainability are not influenced by conflicts of interest.
Daniele Fasan