SÃO PAULO, BRAZIL, 2020
Gravediggers dig new graves at the Vila Formosa public cemetery to bury the growing number of Covid-19 victims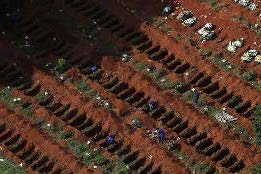 © Reuters / Amanda Perobelli
In May 2020, South America became the new epicentre of the Covid-19 pandemic, with Brazil on the brink of a health and humanitarian catastrophe. Already ravaged by extreme poverty and torn by social and economic inequalities, the country experienced an exponential growth in cases of infection, with hospitals collapsing and large urban agglomerations in critical conditions.
The images of the endless rows of graves dug in the reddish earth of the Vila Formosa cemetery in São Paulo have travelled around the world. In all likelihood, the real number of victims is vastly underestimated by official figures – a discrepancy largely due to the low number of tests performed and their delay. Faced with a crisis that now has the semblance of a massacre and having played down the effects of the pandemic from the outset, describing it as "fantasy" and then as "a minor flu", Jair Bolsonaro has fiercely opposed the containment measures taken by Brazil's governors, taking to the streets (and encouraging gatherings) to urge his people not to stop the country's production machine. Criminal conduct incompatible with every possible scientific instance, in defiance of international guidelines and sowing disinformation and confusion.
Meanwhile, conditions in the Amazon basin are ripe for another perfect storm of vulnerability. There is a real risk that black pages of history will be repeated. The contagion has penetrated Brazil's indigenous tribes and risks bringing to their knees already fragile and unprotected communities, many of which lack basic sanitation and live miles away from the nearest hospital. Among the main vectors spreading Covid-19 are the thousands of illegal loggers and miners who enter and leave the territory, with the backing of the government's infamous policies.
Andra Meneganzin